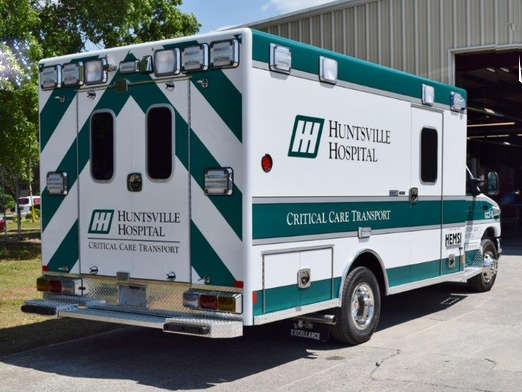 Excellance Golden Eagle Type IIIL ambulances are the choice of EMS Providers who demand the maneuverability and handling of a Cutaway-style chassis and also want the better ride, additional storage, and working room that a longer body offers.
The Type IIIL modular body shares most of the same features as our Type I series, but also includes additional items such as an exterior battery storage compartment and custom-fabricated aluminum diamondplate running boards as standard equipment. While a walk-through feature from the cab to the module is standard, we also offer an optional "pass-through"configuration to provide more space for map books, communication equipment, etc.


Excellance offers two distinct models of Type IIIL ambulances on chassis choices from Ford, Chevrolet, and GMC (for certain models.) Our most popular model is the Type IIIL on a Ford E-450 with a 14,050# GVWR and a 158″ wheelbase. This chassis includes front/rear OEM anti-sway bars, all-wheel disc brakes, and a 55-gallon fuel capacity. We also offer a full range of chassis options including battery conditioners, automatic snow chains, etc. The fully-welded aluminum module has a standard size of 166″ length x 96″ width and includes 69″ of interior headroom. Six standard exterior compartments contain more than 120 cubic feet of storage space. Three exterior compartments also feature interior/exterior access as standard. Dual vertical backboard compartments (streetside/curbside) are standard on all Type IIIL models.


The largest ambulance is our Golden Eagle Type IIIXL on an E-450 chassis with a 176″ wheelbase. This module is 180″ long x 96″ wide and features 69" of headroom. While not your typical ambulance, its unique size lends itself extremely well to situations that have multiple litter patients, Mobile ICU transports, and Fire/Rescue operations. Eight standard exterior compartments provide more than 150 cubic feet of storage space. Either size ambulance can perform a multitude of missions including Fire/Rescue, Critical Care Transport, and multi-


Contact us for a consultation or quote: